Custom lettuce Softgripper – Better grip for lettuce
Solution for handling lettuce with a customized gripper configuration tailored to a customer's robotic setup needs. A case study as a perfect example of how we develop solutions together with our partners.
In this example we used a custom design in collaboration with our parnter: Projx Automation LTD. The goal was to handle very light, but rather large foods with varying shape with or without packaging. We developed a gripper that is capable to be used for all those applications required. This soft gripper base was custom made to fit the product variety. Of course, we are happy to provide you with a robot gripper for your application. If you happen to be automating cabbage handling and packaging, contact us for this custom gripper design and get a white paper on how we managed to get this application up and running in no time.
This is a very special application, where we went through the full customization journey starting with grippers made via the SoftActuator kit by using the Engineering Kit from our online shop. Afterwards we developed a full base resembling the SoftGripper design. The full gripper is now used in an automated pick and place setup. Please contact us for further information.
You can find more information about this project in our whitepaper:
Why robots will soon be picking salad
The agricultural industry is moving ahead and creating evermore machinery for harvesting and food processing equipment. New technologies are being introduced to improve the efficiency of these machines. One such advancement is the use of robots in agriculture. Robots have been developed which can work side by side with farmers as they harvest crops or process foodstuffs. Robots can be easily integrated into all kinds of production lines, allowing complete control over their work and providing a higher degree of precision as well as safety. The highest level of automation is achieved when robots are completely independent from humans; they do not need any human intervention at all to perform their tasks, this would be called a fully automated farm. Besides computer vision for object recognition, one particular tool is most complicated and important for such food processing lines and todays focus topic "lettuce handling": A soft gripper for the lettuce and salad handling robot. A tough challenge lies in the design of such grippers that will move the harvested goods from the conveyer belt into single containers for further packaging. Together with our customers we tackled the creation of a custom gripper model for salad robot picker to increase agricultural productivity.
A major factor for robots in the food and agricultural sector is hygienic design. A gripper must be easy to clean in between shifts. Unhygienic spaces in between elements are a no-go, because they create areas where pieces of produce can get stuck and bacteria thrive. Cleaning of robotic setups in the food sector are done with spray-washing of parts using cleaning solutions: caustic, acidic and oftentimes chlorinated. After a first spraying, the setup is rinsed with water to wash away any residual soiling and washing solutions. This asks for surfaces that are sloped to make sure water can drip off all elements. In addition, screws and seals must be hygienic for the soft gripper to be used in lettuce head handling.
Gripping lettuce can be very challenging due to the nature of the object. Freshly cut lettuce must be handled with care as every leaf can break and deteriorate the quality of the produce. Lettuce leaves are not very tightly packed as it is the case with cabbage. The gripping apparatus must comply with the soft nature of the object and adjust the gripping force accordingly. Softgripper can theoretically solve both problems though the size of the lettuce does not fit in the standard application field.
A customer contacted us and asked about tailor made hygienic gripper for this application. Our soft actuators with customized holder did not comply with hygienic nature of the application.
Our engineering department analyzed of average size and weight of lettuce and predicted the possible outliers. From these requirements a custom gripper was designed and produced in our rapid prototyping facility. After three days we conducted gripping tests with lettuce and shopped the prototype to the customer.
To fit the shape of the lettuce head we developed a custom gripper design that fits a whole lettuce and lets the gripper pick it from beneath ensuring no pressure marks while being able to pick lettuces of various size and shape. Moreover, the application required us to adapt the gripper to two types of applications: Packaged and unpackaged lettuce. Packaged meaning, that the head lettuce comes prepacked in plastic bags from a previous conveyer belt station.
High-speed Lettuce Head Picking
For the task to be economic, pick cycles must be high and cycle times low. Two types of robots are usually used for this type of application: Delta robots and scara robots. In our test setup we used a delta robot from ABB. The delta robot setup resembles what our customer is using in field tests and handling their iceberg lettuce. In our tests, up to 60 picks per minute were possible without leaving gripping marks or singling out lettuce leaves. 
A good gripper for high-speed handling must be fast and light. The weight of produce and gripper must be as low as possible to achieve maximum productivity. While the weight of the product is nothing where a couple of grams can be shaved off, a lightweight gripper design can be favorable in a couple of key aspects:
The last aspect being crucial. How to decrease costs of delta robots? Have them use smaller motors and therefore be cheaper to manufacture! So, in lightweight end of arm tooling design, there are key advantages that should not be overlooked in process design.
More key aspects of the setup, you can see in our videos: For object recognition a simple light barrier with a delay adjusted to the conveyer belt speed was used, but object recognition using a camera is possible as well.
To put everything into a nutshell, this are the gripper properties we focused on in this lettuce handling robot gripper:
But the main property that our soft gripper had to have is the ability to place the vegetables into trays where gripper fingers had only 4 positions to move in between. In the end, this was a  main criterion in designing this gripper – get in between the trays, place the lettuce head and release the product in the end position.
As you might think this is not the only application for this new type of gripper. Our grippers can be adjusted to many other applications to achieve the optimal, safe and hygienic grip. A quick glance at the supermarket shelves reveals a plethora of products that can be handled in a similar fashion. In the video we present a couple of applications: leek packed in two or three pieces and loosely packed red oak leaf lettuce. But chicory and other packed vegetables can be dealt with in a similar manner bringing the agricultural technology forward.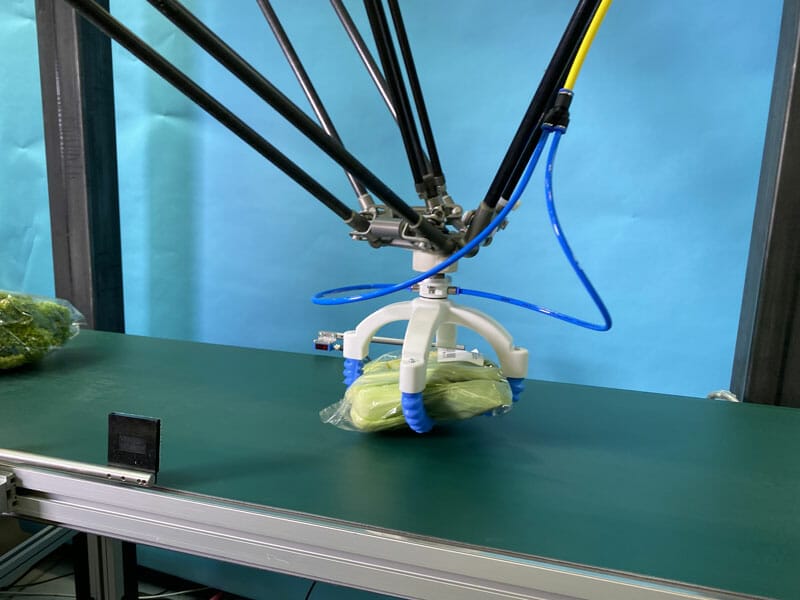 Fast Development together with Customers
Let's discuss why and how this application was made possible in a cooperation and how you can profit from working with us.
Besides our main product lines, our customer service is exceptional: Our engineers are always happy to help in developing custom applications, discussing the integration of gripper fingers in your setup, and testing the application in one of our setups including different models and types of robots, conveyer belts, applications, and object recognition methods.
Why can SoftGripping develop custom gripper models so quickly?
Our main advantage is our knowledge in engineering and rapid prototyping. We work closely with our customers. In a deep dive session, we talk over all requirements that a project bears and present a first CAD prototype in a timely manner for your review. Following the "OK", we create a first prototype using the newest in 3D manufacturing technologies. This gripper prototype is then tested in our setups and can even be used for your first field tests in setups of your facility. Analyzing video and photo material created, our experts suggest the final model that is then manufactured using production grade materials and even at scale. The final gripper can be made in line with FDA and other foods safety requirements.
How can the first viability be accessed without manufacturing a gripper base?
To assist your rapid prototyping, we have developed SoftActuator fingers. These fingers can be mounted to be a part of any end-of-arm-tooling to create any gripper shape you need. This is perfect when hygienic design is not needed in production or when testing out multiple gripper setups for a variety of products to be handled by a robot is needed. 
I am an integrator and need material to present a concept study to my customer!
Our laboratory setups are ready for the test! Let us know what application you are working on and we are happy to share material that we have created to evaluate the task. Your application is new to us? A product from the supermarket can always be tested. For more extraordinary products, we recommend you send us samples of your products and we are happy to provide you with pictures and videos of possible grippers handling your products for your marketing efforts and setup evaluation.  
We are happy to get in touch with you! Let's have a quick talk and find out how to automate your application. Our engineers will validate your application and provide you with test material in form of videos pictures and whitepapers: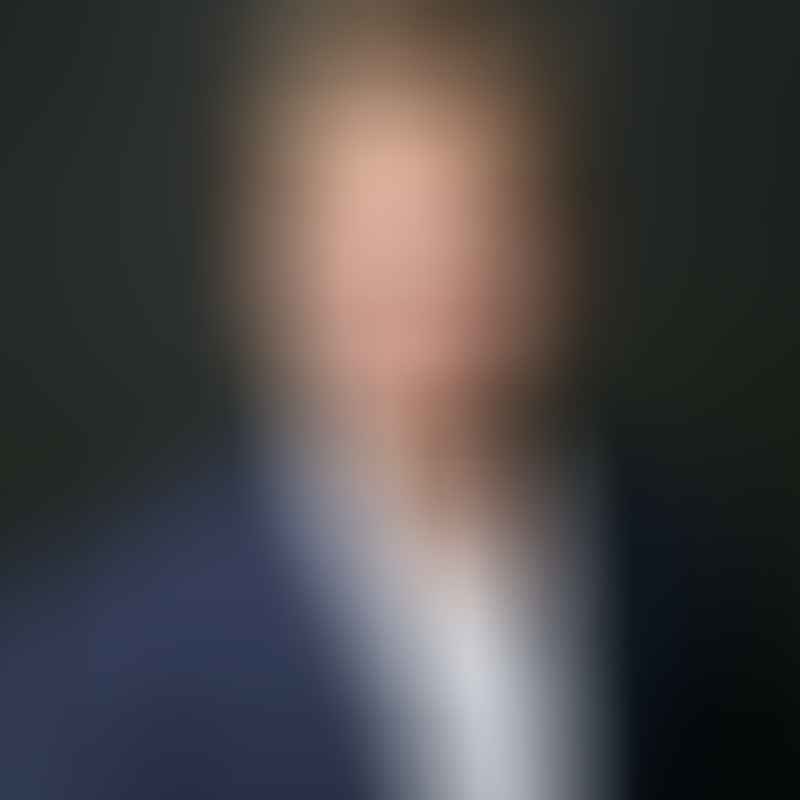 Stephan
Ulrich
"Handling fruits and vegetables from field to plate with high-speed robots and cobots is in high demand and SoftGripping takes it seriously!"