Your Cobot wants a Soft Gripper
Highest Modularity For Easy Assembly
A SoftGripping Cobot Soft gripper is made out of two elements: The base and the fingers.
Pick a base for your objects! We differentiate between centric and parallel bases. Both are available with a different numbers of fingers and attachment angles. The adapters make each and every robot a fit!
Our pneumatically driven fingers are made of FDA-approved silicon rubber with a lifetime of more than 10 million cycles. They are quick and easy to attach to the base using our unique bayonet lock.
Besides, if necessary our grippers can be equipped with a suction cup for additional stength.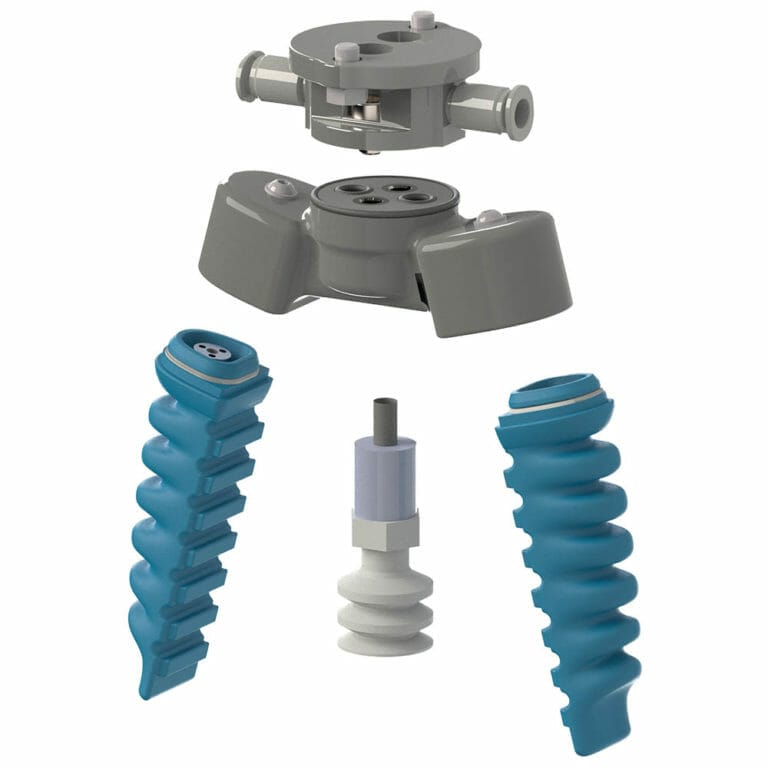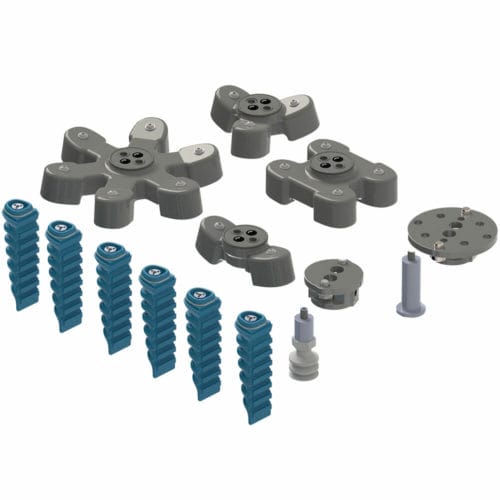 The Perfect Solution For Your Cobot Application
Food Handling? Grip Electrical Or Mechanical Components? Work Buddy? SoftGripping!​
The SoftGripping Cobot Grippers are the perfect choice for your Cobot. We have no sharp edges and the flexible fingers are hazard-free while working hand in hand with you.
The core of the SoftGripping Cobot Soft Gripper are our unique and proven flexible fingers made of silicon rubber. Our fingers and bases are FDA approved and perfect for food handling. By the way: SoftGripping Cobot Soft Gripper fit with one of our adapters on every type of Cobot and also on every other type of industrial robot.
SoftGripping has the power to pick and hold your objects firmly, but at the same time its material is  soft and gentle to the product.
We prepared different bases for your needs. Please take a look further down. 
Why Using SoftGripping Cobot Gripper?
Our Fingers Adapt To Your Objects
Most of the time, objects have a defined shape. Most of the time, but not every time! Consider the bag of buns handled by a SoftGripper in the picture. As you can see, it does not have an exact geometrical shape because the buns can shift inside the package or have different shapes and sizes. The fingers can adapt to the package around, allowing SoftGripping to grip every shape. The adaptive and flexible SoftGripping fingers perform their task regardless of varying shape and weight distribution.

Do you see anything dangerous at our grippers? No? Right! There is nothing! Cobots works in slow speed and slow acceleration with a low load capacity. They are safe while working with humans. But what is with the thing after the tool flange of your Cobot? SoftGripping Cobot Soft Gripper are the safest work buddies you can imagine.
A Centric Base Or A Parallel Base For Your Cobot Soft Gripper ?
It's Easy. But We Are Happy To Support You!
We differentiate our Cobot Soft Grippers between centric bases and parallel bases.  
Centric bases are best to be used when you have to handle round or triangular objects. Also cylindric objects if you want to grip it from above. Best examples for round objects are fruits like apples or oranges. Examples for cylindrical objects are cans of hairspray or drinking glasses.
Parallel bases are used for cuboid or long objects like bread, chocolates, lying bottles or pineapples. 
How Many Fingers And Which Angle For Your Cobot Soft Gripper?
For the centric bases you can choose between 3 or 4 fingers and for parallel bases you can choose 2, 4 or up to 8 fingers.
Furthermore you can choose between 3 different attachment angles for your fingers.
The specific layout of your gripper system may vary depending on the weight and size of the objects to be handled.
In case you have any questions about your optimal setup, write us a short message and we will provide you with all the help you need.

What Soft Gripper do I need to get for my cobot
Determining the type of soft gripper you need for your cobot largely depends on the task you need it to perform and the overall setup you use. There are various types of soft grippers available in the market, including parallel, centric, and custom-designed grippers. Pneumatics is an important aspect you have. That means, there is a difference in having a compressor in your facilities or needing an internal pump in the control box. Let's forst explore the bundled options you have:
Mobile Robot Kit with Soft Grippers
The Mobile Robot Kit with Softgrippers is an all-in-one solution for manufacturers who are looking to integrate softgrippers into their mobile cobot applications. This kit includes everything you need to get started, including a parallel gripper, a centric gripper, spacers, flanges, and a control box that has an integrated pneumatic pump and valves that can be operated via the robot.
The parallel gripper is ideal for gripping flat or rectangular objects, while the centric gripper is designed for gripping cylindrical objects. The spacers and flanges included in the kit can be used to adapt the grippers to a wide range of objects with varying shapes and sizes.
The control box that comes with the kit is designed to be easy to operate, with integrated pneumatic pump and valves that can be controlled via the robot. This allows for precise control over the gripping force, which is important for applications where delicate or fragile objects are being handled.
One of the advantages of the Mobile Robot Kit with Softgrippers is that it is designed to be easily integrated into mobile cobot applications. The lightweight design of the softgrippers, combined with the easy-to-use control box, makes it easy to install and use in a wide range of industries.
Overall, the Mobile Robot Kit with Softgrippers is an excellent solution for manufacturers who are looking to improve efficiency and reduce costs in their manufacturing processes. By using softgrippers, manufacturers can take advantage of the benefits that they offer, including increased flexibility, improved safety, reduced cost, and improved efficiency. If you are considering using softgrippers in your mobile cobot applications, then be sure to check out the Mobile Robot Kit with Softgrippers and experience the benefits for yourself.
Construction kit with Soft Grippers
The SoftGripping Construction Kit is an incredibly versatile tool for anyone looking to customize their soft grippers for cobot applications. With the ability to build four different centric and parallel grippers, this kit is perfect for finding the best gripper for your application in a playful way. The included suction cup and spacer provide additional customization options to ensure the gripper is tailored to your specific needs.
The SoftGripping Construction Kit includes all the necessary elements to assemble the four different SoftGrippers. The six SoftGripping Fingers are the foundation of each gripper, with two parallel SoftGripper bases with two fingers each and three centric SoftGripper bases with three, four, and six fingers, respectively. This range of bases provides a wide range of gripping options, ensuring you can find the best fit for your needs.
In addition to the various SoftGripper bases, the kit also includes two robot flanges, one ISO 9409-A50-R, and the other ISO 9409-A31,5-R, along with a spacer and a suction cup. These accessories provide further customization options for the SoftGripper, allowing you to adapt it to different shapes and sizes of objects.
Finally, the SoftGripping Construction Kit also comes with all the necessary screws, tools, and pneumatic accessories needed for assembly. This comprehensive kit provides everything you need to build your customized SoftGripper for your cobot application.
In conclusion, the SoftGripping Construction Kit is an excellent investment for anyone looking to customize their soft grippers for cobot applications. With the ability to build four different centric and parallel grippers, along with the suction cup and spacer, this kit provides a wide range of customization options. The included elements, such as the SoftGripping Fingers, robot flanges, and pneumatic accessories, make assembly a breeze, ensuring that you can quickly and easily create the perfect SoftGripper for your needs.
This said, this kit requires a compressor and pneumatics pack to work. Of course, we recommend our Controlboxes that are optimal with the grippers, but you can also read our article about pneumatics  and the documentation to get started.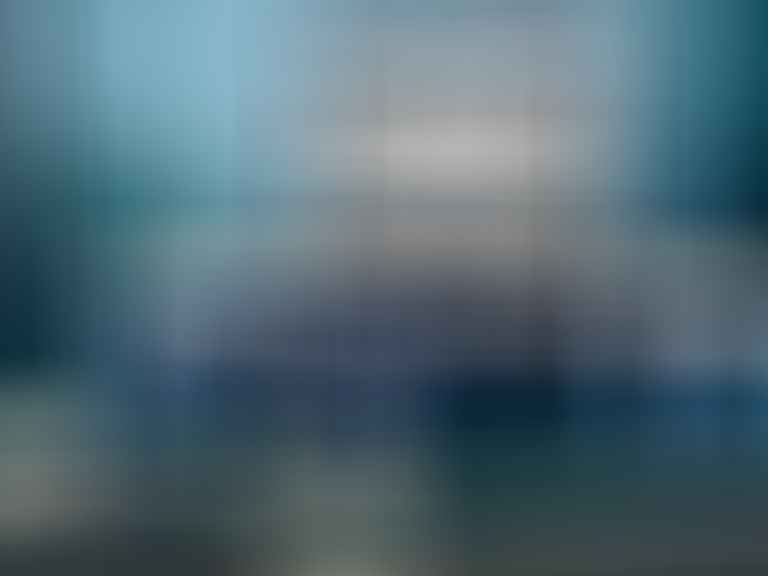 We have encountered applications from food packaging to picking scrape metal from automobile parts and our scope of application only broadens. Therefore, we are confident in our ability to find the best solution to your gripping problem.
Please feel free to get in touch via email or phone so we can help you to find the right tool!